COVID 19 EMERGENCY FACE SHIELDS
THIS IS WORK IN PROGRESS. USE CTRL+F5 ON YOUR KEYBOARD TO REFRESH EVERY SO OFTEN!
THESE DESIGNS ARE STRICTLY TO BE USED FOR FREE, DONATED PERSONAL PROTECTION EQUIPMENT FOR HEALTH CARE WORKERS. DON'T EVEN THINK ABOUT MAKING THESE AND SELLING THEM ON EBAY OR ANYWHERE ELSE.

This site is a shared resource for anyone who wants to make face shields for health care workers.

Click this link to open our Google Drive shared folder. You'll find all the files we use for making shields. If
there's something you need but don't see, or if you need a specific file type that's not available, let us know. The Google Drive directory has a folder named "Materials used and where to find them"- that's where we are sourcing our materials.
This is a guide to manufacturing our design of emergency face shields. They are created using materials that can be sourced in the Southeast. All content here is freely shared- please modify it any way you need to. We are active on Facebook: https://www.facebook.com/positivefieldsorg/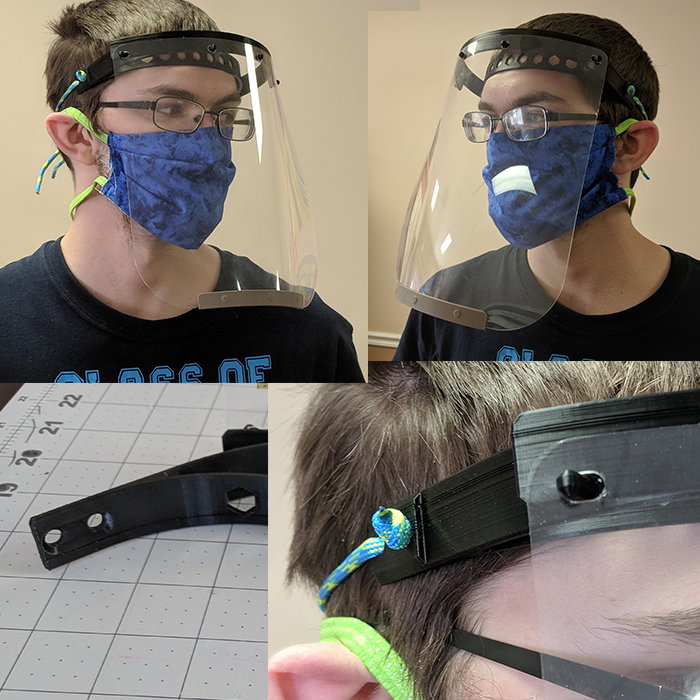 Our design is a modification of the Prusa Face Shield R2. WE CANNOT SOURCE ELASTIC BANDS- DON'T PRINT THE ACTUAL PRUSA DESIGN IF YOU CAN'T GET ELASTIC! Print our design if you want to use paracord or deliver your printed parts to us.
Printer settings: .2mm layer height, no supports, 12% infill.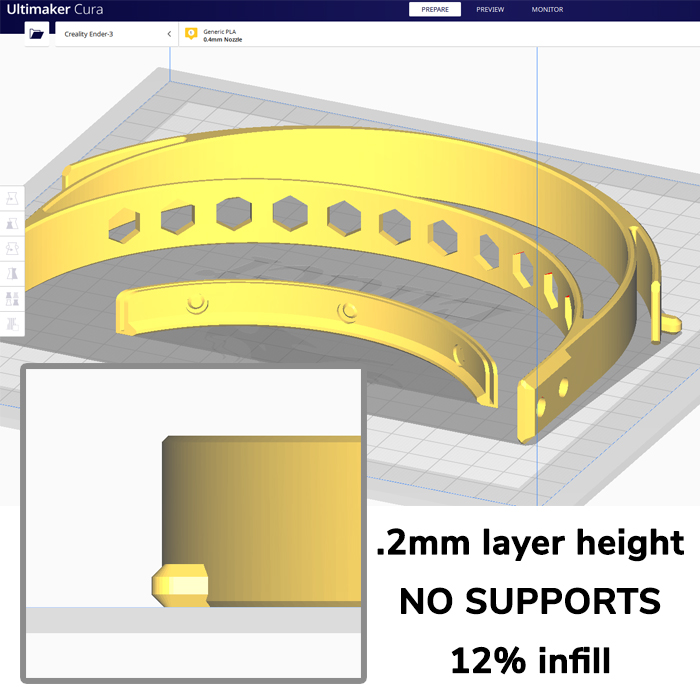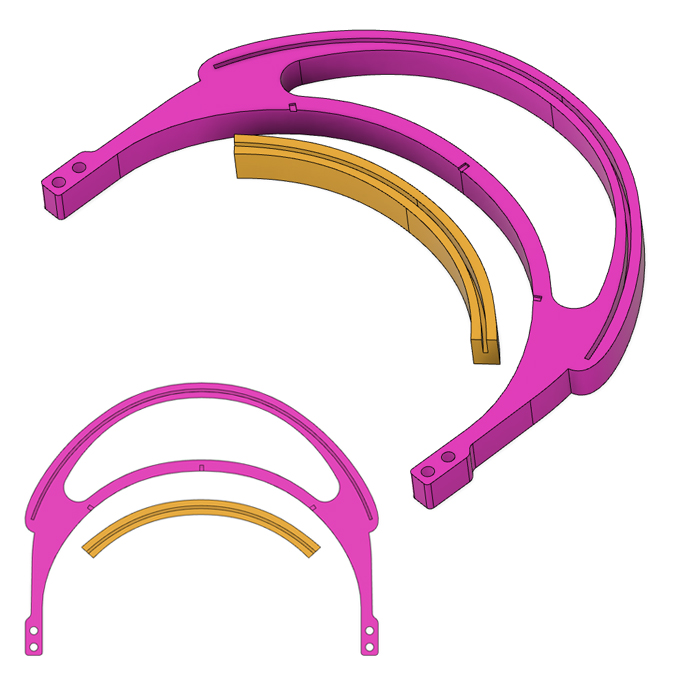 Our CNC version is also a modification of the Prusa R2 design. The main headband components are milled from 1/2″ PVC which is available at Home Depot in 4'x8′ sheets. We cut them in 16″x16″ squares- which fits 6 complete pairs (top and bottom parts).
Our original design was updated by Drew Kimball at BRAIN TRUST CREATIVE. Send him a hug please.
There is a Fusion 360 file on the google drive with toolpaths for a single pair of headband upper and lower.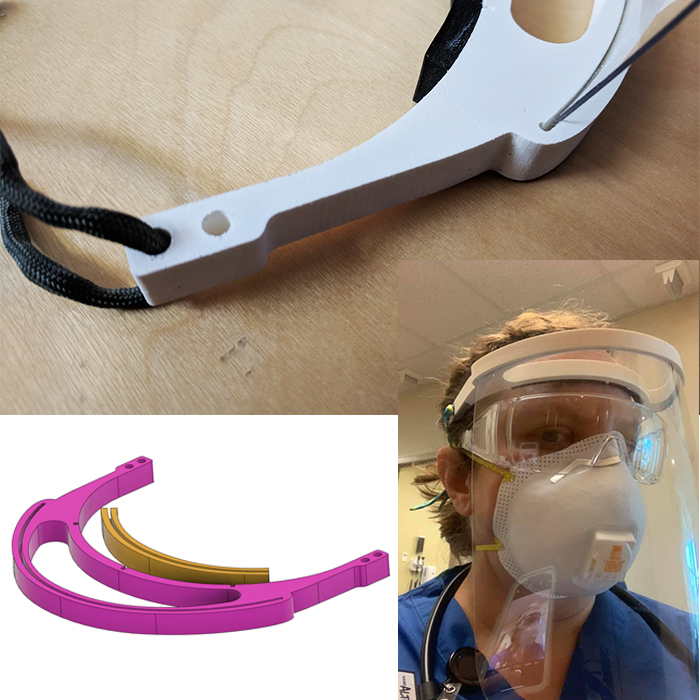 Our designs use PARACORD as strap material- as we cannot source elastic. If you are interested in making these shields, keep in mind we can do the final assembly here at Positive Fields in Hogansville, GA. Our address: 201 E. Main St. Hogansville, GA 30230
CNC Machining Face Shields: We are making these shields with a combination of CNC machined PVC (1/2″ thick), CNC machined PETG (clear plastic), paracord, and paracord cleats.
IF YOU CAN'T MAKE ALL THESE PARTS, DON'T WORRY. You can help us by making components, and we can assemble the final product here.
HEADBAND PARTS: 
We pre-cut and pre-tape 16″x16″ squares of 1/2″ PVC.
Two end mills are needed- 2 flute upcut 1/8th flat and 1/16th flat
Workholding is KEY- we use blue tape and superglue- you can use tabs or onion skin IF you can trim the parts nicely.
We mill the 1/16th channels and pockets first, then use the 1/8th for final contours
Our Shapeoko 3 XXL can cut 8 full mask pairs (tops and bottoms) in about 40 minutes.
CONVENTIONAL seems to cut this plastic much better than CLIMB.
FEEDS: 1/16th pockets and channels. 60 in/min at .06″ DOC.
FEEDS: 1/8th contours. 60 in/ min at .235″ DOC.
SPEEDS: all our plastic cuts are done with a DeWalt DW611 at the lowest speed.
Here is a photo of a run of 6 pairs of upper and lower headband pieces cut from a 16″x16″ square.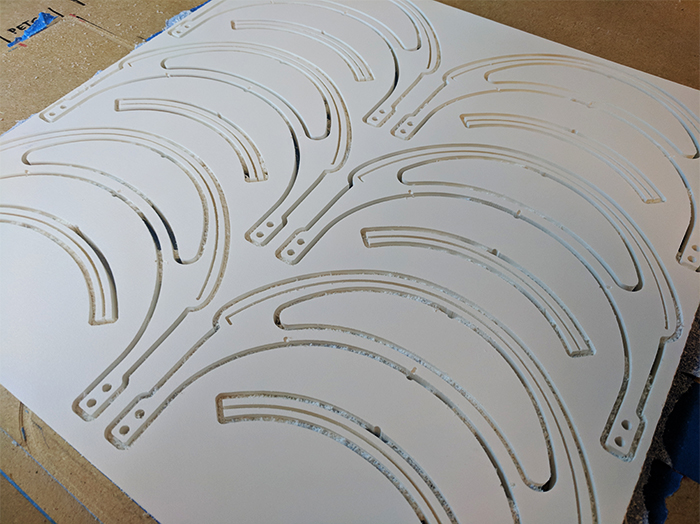 CLEAR PLASTIC SHIELD: (Don't worry if you can't source PETG at .03″ or .04″- email us and we'll figure it out.)
We cut the PETG plastic two shields at a time.
We use a 1/8th inch straight router bit- it's got to be new and sharp.
We use bluetape and superglue for workholding.
FEEDS: 50 in/min at full DOC (one pass).
We are working with Chris at Laser Precision Designs to get accurate settings for cutting PETG on a laser.
We used Autodesk Fusion 360 to create these designs and toolpaths. If you are a Fusion 360 user, you should be able to download our files and get started right away. If you need other formats, please let us know. Perhaps you can help us provide toolpaths for other software so everyone doesn't have to reinvent the wheel.
UPDATE: Thanks to Troy Gattis- if you are an Aspire user- there are files now on the google drive.